Best Mics For Youtube
Best mics for youtube – Hello guys if you are looking for a microphone for your youtube channel, so you are at the right place,
in this article, we are trying to cover all the best options available in terms of voice clarity, omnidirectional, background voice, and many more aspects we will try to cover. Let's have look.
1. Blue Yeti –
One of the best mic for the YouTubers and if you have notice many famous YouTubers use this mic and you can find it on their table, they use it for the voice overs and recordings etc.
The best microphone, I will recommend Blue Yeti. It is a cost-effective USB microphone for recording high-quality audio. Blue Yeti comes with a 16-Bit/48 kHz resolution audio recording. It offers four different polar patterns stereo, omnidirectional, cardioid, or bi-directional. This microphone is perfect for vocals, podcasting, voiceovers, music, and conference calls.
The design of this microphone is also very good and looks attractive. It also comes with a little stand that can also be folded. Blue Yeti allows for easy positioning and transport. It is a USB mic and supports Mac OS and Windows system. Just plug and play.
Pros-
      Four recording Mode,
      Great sound quality
Cons-
Price can be an issue for some people
A Bit Bulky
Price: Rs. 10,099 around
Buy Here:  Amazon
2. Audio-Technica AT2035
Audio-Technica AT2035 is also a notable microphone for recording songs, voiceovers, and podcasts. It is one of the best brands for microphones and this is one of the most recommended cost-effective microphones. It offers a studio-like condenser mic feel. This mic ships with a custom shock mount and a durable padded pouch.
It allows you to switch between the 80 Hz high-pass filter as well as the 10 dB pad. So, you have control over sound pressure levels.
Pros-
Solid build
Clear sound quality
Nice features
Cons-
Bass response overpowering for some vocalist
Price: Rs. 16,990
Buy Here:  Amazon
3. Blue Snowball – Budget-Friendly and beautiful mic
Best Mics For Youtube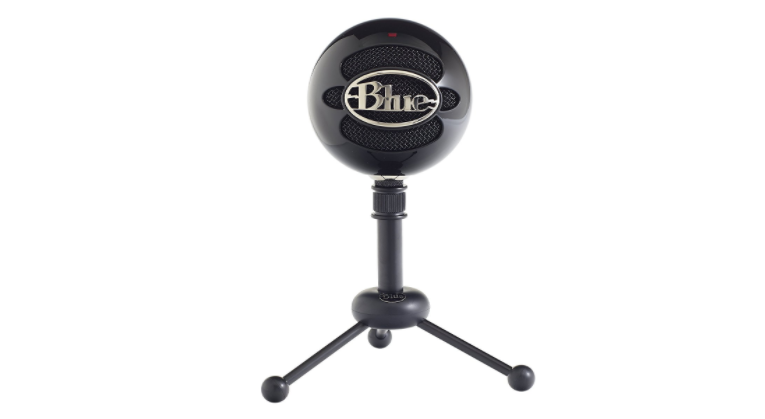 Shop Now
Blue Snowball is the most affordable of all microphones in this loss. It is the most popular microphone from Blue. It is smaller and lacks few features, but best for those who have restricted a low budget. This microphone is great for recording voice-overs and recording videos from the desk.
It comes with dual pattern recording options (cardioid and omnidirectional) and connects to the system over USB. It has dual capsule design and comes with a unique 3-pattern switch (cardioid, cardioid with -10dB pad, and Omni).
Pros-
Cons-
Distant subjects not very well resolved
Price: Rs. 7,499
Buy Here: Amazon
Best Shotgun Mics For YouTube (Perfect for vlogs)
Shotgun mics are used by Vloggers. It is good for close-ups and medium-angle shots. It is also used to record interviews where a person sits directly in front of cameras.
1. Rode VideoMic Pro+ Best Mics For Youtube
Rode VideoMic Pro+ is the best camera shotgun mic. It is costly but best if you want to record in camera sound. It directly attaches to your camera and records high-quality sound. It is a good choice for Vloggers. This mic is designed to pick up the audio directly from the front. You can also adjust different things like sensitivity and loudness. It has three-stage gain control that is used to boost the audio signal. It also comes with an additional high-frequency boost mode. If you are looking for an excellent shotgun mic, this one should be your choice.
Price: Rs. 20,499.00
Buy Here:  Amazon
2. Rode Video Mic GO
This is a cheap shotgun mic and doesn't require any battery to operate. It is powered by camera's external microphone input. It uses 4.5 mm port to connect with your DSLR camera. It delivers clear, crisp and directional audio by reducing other surrounding sounds. It is designed to capture audio from the front. There is no complicated switches or settings.
Price: Rs. 6999
Buy Here:  Amazon
Best Lavalier Mics
Lavaliers are used for wide-angle shots where the person needs the freedom to move. It is a button-sized microphone and is also called as lapel mic.
1. Audio-Technica PRO70                                                                                 Best Mics for youtube
Audio-Technica PRO70 is costly but the best one to get if you are looking for a Lavalier microphone. It offers a solid performance. It is good for recording interviews, public events or music shows. It is not high-end but is good for recording professional sound. It also looks good. It has a pick-up angle of 120 degrees that makes it good even in environmental noise situations. It comes with a thick 6 feet cable.
Price: Rs. 17,154
Buy Here:  Amazon
2. Rode SmartLav+.                                                        Best Mics For Youtube
Rode SmartLav+ is a budget offering and is compatible with both cameras and smartphones. It is cheap and doesn't require any extra power to operate. It comes with a windscreen, shirt clip, and carrying pouch. It does a good job considering its price. There is also a dedicated Rode Rec app for iOS devices. You can use the app to record the audio using this mic on your iPhone. It is light in weight and requires zero extra effort in carrying.
Price: Rs. 5,099
Buy Here:  Amazon
Conclusion-
So, it depends on your budget for choosing the right mic. we tried to put different mics according to the budget in the article.
If you ask my opinion I will go with Blue Yeti because I think its one-time investment and this mic is a beauty. The sound output of this microphone is just clear and crisp.
And also you can go to Blue Snowball this mic is also very good and that might fit in the budget as well.
For more articles please click on the link ahead – Click Here 
Thank you so much for coming here. I believe you might have got some useful information.
If you have any queries, please comment below, we will try to answer.